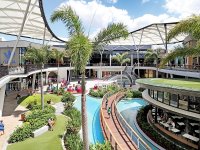 As well as Surfers Paradise, our cheap accommodation Gold Coast resort offers a close location to Broadbeach - another popular Gold Coast destination that is busy with a whole host of exciting things to see and do.

This winter, plan your Gold Coast family holiday with our affordable 2 Bedroom Apartments at Cannes Court where, within minutes, you can enjoy everything that's exciting about Broadbeach Gold Coast.
Kurrawa Beach
Just walking distance from our location, Kurrawa Beach is a must-visit sandy paradise where excitement and relaxation come together. Surf, swim, paddle board or stroll - this popular Gold Coast beach is sure to become the focal point of your holiday.
Cascade Gardens
Also a short walk away, Cascade Gardens Gold Coast is a picturesque spot home to unique flora and nature walkways next to a quiet lake. Pack a picnic to enjoy on your visit, and if you're bringing the kids along, rest assured they won't get bored at the park's large playground.
The Star Gold Coast
A casino, venue and dining complex in one, The Star Gold Coast is a world-class stop in Broadbeach if you're seeking good food and entertainment. Check out what shows are on and make sure to try one of the restaurants, which offer international buffets to fine dining with a view.
Broadbeach Restaurants
Broadbeach is a hub of exciting restaurants with great choices to be found around each corner. Hotspots to explore include Oracle Boulevard, Surf Parade and the Gold Coast Highway on the beachfront.
Oasis and Pacific Fair Shopping Centre
No holiday in Broadbeach is complete without visiting Oasis Shopping Centre and Pacific Fair. You'll find everything you need at these famously large Gold Coast shopping centres, from leading fashion brands to salons, spas and fast-food outlets.

Set your holiday in motion today - find more information and view our budget-friendly prices at Cannes Court Surfers Paradise.