Posted in
Local Events
@
Feb 13th 2016 12:12pm
- By Administrator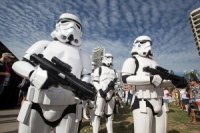 Extraordinary days call for extraordinary OOTDs (outfit of the day). This April, you can most certainly experience an extraordinary weekend filled with your favourite characters from the world of science fiction, cartoons, comic books, animation, and other genres you can think of.

It's time to set your sights on the iconic Gold Coast for QPoW on Broadbeach! Join thousands upon thousands of Cosplayers roaming around Broadbeach from 8 to 10 April 2016 (9 a.m.).

Channel your favourite comic book characters and have an extraordinary weekend ahead. QPoW on Broadbeach will be coinciding with Supanova Pop Culture Expo and the Gold Coast Film Festival, two other main events you and your family can look forward to.

Catch free outdoor movie screenings in Victoria Park, where you and your loved ones can have fun watching while enjoying a picnic. Keep an eye out for the craziest turtles you will ever meet. Catch Leonardo, Michaelangelo, Donatello, and Raphael up close and personal during the Nickelodeon Teenage Mutant Ninja Turtle Live Shows. Also, get to interact with families at Victoria Park, Broadbeach! Indulge in a festive Cosplay edition unlike any other, and don't forget to don your ultimate superhero costume!

Start your trip by checking in at Cannes Court Apartments for your comfortable, hassle-free accommodation. Take all the time you need to settle down and be at home with our luxuriously designed yet cheap accommodation Surfers Paradise and appreciate the establishment's superb amenities, such as: a solar heated salt water outdoor pool, a relaxing spa, a roomy barbecue area and pergola, a very stable wireless Internet and business facilities, babysitting services, and non-smoking floors.

We also take pride in our friendly tour desk staff members who are happy to help you with your bookings, transport arrangements, and other excursions. After receiving great travel advice from our staff, you and your family are ready to brave the great outdoors.

Recharge at Cannes Court Apartments so you can rev up for an amazing day ahead! Find a home in one of our rooms today and take full advantage of our excellent amenities. Book now by visiting http://cannescourt.etourism.net.au. It's fast and easy!
Image Source : QPOW on Broadbeach