Posted in
Local Events
@
Feb 6th 2019 10:27am
- By Administrator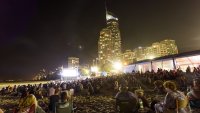 This April, the 2019 Gold Coast Film Festival will be celebrating everything to do with film with a number of exciting events taking place near our cheap accommodation Surfers Paradise resort.

An annual community event that showcases independent Australian movies, short films and more, the Gold Coast Film Festival is a must for cinephiles, movie lovers and aspiring filmmakers looking to be entertained, captivated and inspired! First established in 2002, this unique celebration of film has returned each year to the Gold Coast with thousands of visitors coming from all over the country, and this 2019, it will be back for another twelve-day film extravaganza that's too good to miss out on.

One big event coming with this year's Gold Coast Film Festival is SIPFest - an outdoor movie night on Surfers Paradise Beach that will be presenting 14 finalist short films from moviemakers in Australia as well as all over the world. It will be free to attend, and the perfect excuse to grab a blanket and cosy up with friends and family next to the ocean.

Another unmissable event will be Blind Cinema at Home of the Arts. This unique experience involves sitting in a theatre with a blindfold, as kids verbally describe the story and action in a collaborative, thought-provoking film experiment that has to be experienced at least once!

Also not to miss on the program is a free screening of Red Dog at Home of the Arts! This iconic Australian film has captured the hearts of audiences worldwide, and will be returning to the big screen for one date only at this year's Gold Coast Film Festival.

For the chance to experience all of it this April, make sure to book with Cannes Court Surfers Paradise.