Posted in
Local Events
@
Nov 8th 2015 7:27am
- By Administrator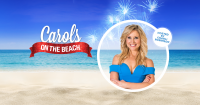 Friends are families we chose for ourselves. So if your real family is too busy to be with you or support you, your friends are the ones who act like them and give the love and care that you need.

So if you're coming to Surfers Paradise with your best buds this Christmas season, why not make your stay at the 6th Theme Park more unforgettable by attending Christmas events with them that are mostly attended by families both by blood and by choice?

With that, start saving December 20, 2015 on your phone's calendar for on that day is when the biggest Gold Coast Christmas Carols event will happen. From 6:30pm to 8pm of that fantastic Sunday, the Surfers Paradise Beach will be crowded by families and friends for the annual Surfers Paradise Carols on the Beach.

Bring your favourite meals and some picnic blankets and be part of the joyous people listening and singing to famous Christmas carols to be performed by of the best Australian talents.

Some musicians to watch out for as they sing Christmas carols are Tom Gilinder, Peter Murphy, Mitchell Steele from The Voice, Blinky Bill, Showbiz Circus, Rachael Steel, George Gilings, Vanessa Krummenacher, and Acrobatic Eyes, so expect a night filled with fun and entertainment that will surely make each heart joyful this Christmas.

With Sea FM's Charli Robinson to host this annual musical event, there will be all out excitement and anticipation of everybody' favourite Santa Claus who will take a glimpse some time during the whole program.

So even if you won't be with your family this merry season, at least you have your friends whom you can share these kinds of heart warming moments with.

Still searching for the affordable yet amazing Surfers Paradise family holiday apartments? Then your search is over because Cannes Court Apartments is the best for you and your mates.

Our location in Surfers Paradise already makes us a sure fire hit. But with our self contained and fully furnished Two Bedroom Apartments, plus our resort facilities such as the solar heated salt water outdoor pool, spa, barbecue area, Wifi access, Tour Desk and Booking service, babysitting service, and the availability of non-smoking floors, make our resort a winner to our every customer.

So book our cheap accommodation Gold Coast now at http://cannescourt.etourism.net.au/.
Image Source : Carols on the Beach