Posted in
Local Events
@
Jan 8th 2016 12:09pm
- By Administrator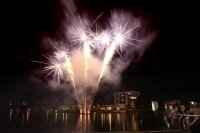 Let the sky and the stars be your guide on your next visit to the iconic Surfers Paradise. Catch a treasure trove of lights dancing their way through the night. Here's your chance to join thousands of locals and tourists on April 9 as they gather for the much-anticipated 2016 Seafire Fireworks Challenge.

Witness a magical feat between two creative teams of Queensland's greatest pyros as they bring you a majestic festival of lights! Spectators, who are looking to enjoy an evening by the foreshores of Surfers Paradise, are bound to have a unique experience they'll most certainly live to tell.

What are you waiting for then? Get your friends and family excited for the Seafire Fireworks Challenge. Pack your travel bags with camping and picnic items so that you can set them up along Surfers Paradise. We invite you to be part of a beautiful showcase of fireworks. Allow Seafire Fireworks Challenge to light up your world this April.

Meanwhile, if you are still looking for a place to call your second home, look no further than Cannes Court Apartments for your comfortable, hassle-free accommodation. Take all the time you need to settle down and feel right at home with our luxuriously designed rooms. Go ahead and take complete advantage of our superb guest amenities, such as: our solar heated salt water outdoor pool, relaxing spa, roomy barbecue area and pergola, stable wireless Internet and business facilities, babysitting services, and non-smoking floors.

We also take pride in our friendly tour desk staff who are more than happy to share with you their expertise when it comes to Gold Coast's best attractions. Imagine being able to go sailing, shopping at beachfront markets, conquering new heights with the iconic Sky Point Climb, and dining at a fancy restaurant, all in one day? Allow them to help you out with your bookings, and transport arrangements so that you can worry less and enjoy more of what Gold Coast has to offer.

Choose from our Surfers Paradise Family Holiday Apartments and make Cannes Court Apartments your holiday address. Book your stay now by visiting http://cannescourt.etourism.net.au. It's fast and easy!