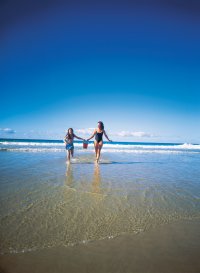 Pack your bags, gather your mates and hit the beach! Nothing beats spending your holiday with some surf, sand, sun and fun on the beach! Lay down a mat and relax on the golden sands of the Gold Coast. Enjoy the warm sunshine and feel the cool ocean breeze brush against your face. Enjoy the sound of the waves as you get a tan. Play an exciting game of beach volleyball with your friends and family. Take out a Frisbee and let her spin for some fun times. Enjoy a nice swim in the tranquil blue waters of the sea. Walk along the shoreline of the Gold Coast and soak in some sunshine. Dig your toes into the sand and enjoy the sound and smell of the sea
To make your holiday more relaxing and enjoyable, we also provide our guests the exclusive use of our facilities. To make sure that your holiday on the Gold Coast is a blast, just approach our tour desk guide. We know all the best attractions and top destinations around the Gold Coast. Just approach our friendly staff and we'll gladly help you plan out your holiday itinerary. We'll make sure that you'll have an exciting time. We'll also help you with your tour bookings and ticket reservations.
We have a solar heated outdoor pool were you can go for an invigorating swim whenever you like. There's nothing like a morning swim to get you started on your day of adventure. Burn off a few calories by swimming a few laps in the pool.
We have a spa where you can relax and unwind after a long day of exciting activities on the Gold Coast. Step in, relax, and unwind. Let the heat and bubbles melt your stress away and soothe your tired muscles. What better way to top off your exciting day than a nice relaxing soak in our spa
Book our Surfers Paradise Accommodation Apartments now at http://cannescourt.etourism.net.au