Posted in
Accommodation
@
Apr 28th 2016 12:35pm
- By Administrator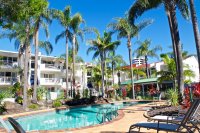 Beach lovers like you can find so many reasons why lazing around the sweeping foreshores of Surfers Paradise is one of the best things life has to offer! But while you are rejoicing under the sun, are you actually doing it right, or are you already damaging your skin? Well, no worries. Here are some gentle sunbathing reminder for you.

Since no one wants to nurse terrible sunburns during the aftermath of your vacation, better prevent sunburns from happening without necessarily skipping the glorious sun altogether. Oftentimes, people wear makeup and spritz their perfumes and body sprays, but doing so can actually pose hazards for your skin because of the chemicals these products may contain. Instead, generously apply your SPF lotions, creams, and hair conditioners onto your skin and hair. Also, allot 30 minutes before heading out - this time should be enough for your skin to absorb the products.

It's important to remember limiting oyur sun exposure to not longer than 20 minutes every day. And avoid going out beyond 10AM onwards. If you will need to stay out much longer, you'll have to reapply your sunscreen from time to time. And let's face it, with that scorching heat, sunscreen may not be enough. Bring out your umbrellas, hats, and other necessary body coverups to protect you from the sun.

Last but not the least is to keep yourself hydrated. All that heat is going to dry you up. Maintain a good habit of drinking not less than eight glasses of water every day. Those are pretty much what you need to keep in mind the next time you get out there! Always put your health first. Yes?

Meanwhile, compliment your beach loving lifestyle with a comfortable stay at Cannes Court Apartments. Feel very much at home with our luxuriously styled living spaces and unwind using our excellent amenities, such as: a solar heated salt water outdoor pool, a relaxing spa, a roomy barbecue area and pergola, a very stable wireless Internet and business facilities, babysitting services, and non-smoking floors.
Book your Gold Coast Holiday Packages now by visiting http://cannescourt.etourism.net.au.