Posted in
Local Events
@
Jul 12th 2019 3:00pm
- By Administrator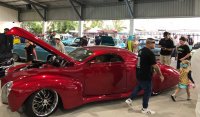 Coming to the Carrara Markets in September, Classic Car Show 2019 is a great event to welcome spring and a fantastic treat on this year's Father's Day!

Be a stone's throw away from this unmissable event with our family-friendly Surfers Paradise accommodation apartments, which will take over the lively Carrara Markets with a jaw-dropping display of over 40 classic cars. Ideal for anyone with an infatuation for vintage car types and rare classics, the annual Carrara Markets Classic Car Show wheels in some of the country's most unique cars, offering lots to see and a vibrant atmosphere for all.

The classic car display will arrive alongside tasty food vendors and an exciting spread of stalls signature of the Gold Coast's leading marketplace. Get your hands on hot food and cool drinks, and have a look around the abundance of stalls which will be selling everything from classic car memorabilia to handmade souvenirs.

The 2019 Classic Car Show will take place over the Father's Day weekend on Saturday, August 31 and Sunday, September 1. For an affordable stay near the Gold Coast Carrara Markets, look no further than our Surfers Paradise family holiday apartments.

At Cannes Court Gold Coast, we offer spacious 2 Bedroom Apartments that are ideal for families looking to soak up everything the Gold Coast has to offer. With our central location, enjoy Surfers Paradise to its full: the Gold Coast's leading family destination that boasts exciting holiday attractions, world-class restaurants and beautiful Surfers Paradise Beach.

Our family-friendly 2 Bedroom Apartments are fully self-contained, featuring spacious living and dining areas, full kitchen facilities and large private balconies for relaxing in the sun. Find more information on our apartments and onsite guest facilities, then make sure to book directly to enjoy our exclusive holiday rates - just visit Cannes Court Surfers Paradise.