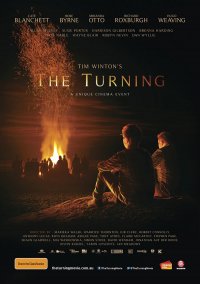 Catch a unique cinematic event. Watch Tom Winton's The Turning from September 28 to October 7, 2013 at Arts Cinema 2, The Arts Centre Gold Coast.

The Turning features 17 talented Australian directors from diverse artistic disciplines. Each director interprets author Tom Winton's masterful work by each creating a chapter of the hauntingly beautiful novel. The linking and overlapping stories explore the extraordinary turning points in ordinary people's lives in a stunning portrait of a small coastal community. As characters face second thoughts and regret, relationships irretrievably alter, resolves are made or broken, and lives change direction forever. This watershed film reinterprets and re-imagines the work for the screen.

The Turning stars an incredibly talented cast which includes Rose Byrne, Cate Blanchett, Hugo Weaving, Miranda Otto, Richard Roxburgh, Callan Mulvey, Susie Porter, Myles Pollard, Dan Wyllie and James Fraser.

Enjoy The Turning at The Arts Centre Gold Coast. The Arts Centre Gold Coast is just a few minutes away from our Cheap Accommodation Surfes Paradise.