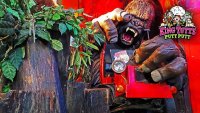 Surfers Paradise is a world-class destination for families, and a fantastic way to spend the school holiday coming in April!

With our Surfers Paradise accommodation apartments at Cannes Court, you can have Surfers Paradise at your fingertips, where you and the kids are sure to be blown away by the countless number of things to see, do and explore. Book with us now, and start looking forward to these top things to do over the school holiday.
Surfers Paradise Beach
There isn't a more exciting family beach on the Gold Coast than Surfers Paradise Beach! Perfect for strolling, cycling, swimming, surfing and paddle boarding, this atmospheric beach is guaranteed to become your family's go-to spot for memorable bonding and fun under the sun.
Ripley's Believe It or Not!
Filled with odd and fascinating items from all over the world, Ripley's Odditorium is one attraction in Surfers Paradise that will send you away in disbelief! You have to see it to believe it, and Ripley's doesn't disappoint.
King Tutts Putt Putt
Everyone loves mini-golf, and King Tutts Putt Putt is the best family-friendly golf attraction on the Gold Coast. Enjoy its popular themed courses, which feature everything from windmills, groovy bends and curves, colourful characters, pirate ships and more. It's an unbeatable day out for all ages!
Timezone Surfers Paradise
One of the largest entertainment centres in the country, Timezone Surfers Paradise is one arcade that the kids will want to return to over and over again. See what prizes you can win on the games, then bond over ten-pin bowling, laser tag, dodgems and more at this world-class attraction.

Book your Surfers Paradise family holiday now with Cannes Court Apartments.