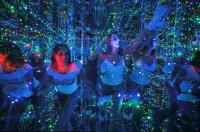 Leisure and Relaxation
Whether you're looking for white sand or green parks, Surfers Paradise has both. Soak up the atmosphere on Surfers Paradise Beach, a popular beach for sunbathing, beachfront sports, surfing, paddle boarding, and beachfront markets. When you've had enough of the beach, head to Macintosh Island Park for a picnic under the trees with the company of a few friendly peacocks.
Attractions
Home to some of the best attractions on the Gold Coast, Surfers Paradise offers heaps to do for both families and couples. Just some to put on your list include SkyPoint Observation Deck, Timezone Surfers Paradise, Ripley's Believe It or Not, The Wax Museum, INFINITY, Dracula's Haunted House, and more. If you're a thrill-seeker, see how well you handle the Slingshot and Vomatron on Palm Ave.
Shopping and Dining
There's a number of places in Surfers Paradise to shop and dine during your holiday, offering plenty of choice and lots to explore over a few days. Paradise Centre at the heart of Surfers Paradise offers more than 100 retailer stores and a huge choice of eateries; there's also Chevron Renaissance Shopping Centre, boasting fashion retailers, cafes, and more. For an indoor shopping experience head to Cavill Mall, and for all your surfing and beach gear take a stroll down Soul Boardwalk. Surfers Paradise is a mecca for shopping and dining, which you'll discover at every street corner.
Live Entertainment
If you're in the mood for flashy lights, a good atmosphere, and unforgettable entertainment then Surfers Paradise won't disappoint. Surfers Paradise is never without a good show, which you'll find at Home of the Arts, one of the Gold Coast's leading performing arts and entertainment venues. Make sure to see what's on, which could be anything from stomach-aching comedy or renowned theatre productions to live concerts and world-class cabaret.
Everything Surfers Paradise has to offer is yours within walking distance at our cheap accommodation Surfers Paradise resort. Find more information on Cannes Court Apartments today by going to https://cannescourt.etourism.net.au/